3890 Oakwood Avenue
Youngstown, OH 44515
United States
CATEGORIES & HEADINGSdetails >>
Automation //
Equipment / Furniture / Supplies //
Services //
SenSource is a premier supplier of people counting systems for over 1200 libraries across the nation. From basic reporting to fully integrated business solutions, we have what you need.
Our people counting system uses 3D stereo video technology for 95% or greater accuracy guaranteed.
- Video validation ensures accuracy
- Maintains accuracy in high traffic with various traffic patterns
- Advanced algorithms determine humans and omit objects such as carts or bags
- View and analyze data for a single location or multiple locations using Vea reporting platform

Analyze library traffic data to:
- Justify funding and expansion
- Efficiently staff and maintain operations
- Document for town statistics
- Compare traffic between locations
- Monitor room usage within the library

SenSource's Vea Cloud-Based Reporting and Analytics Platform completes your traffic counting solution allowing you to learn more about your library's operations including visitation trends and traffic patterns. Vea's intuitive design uses drag-and-drop widgets to build custom dashboards and reports. This data is essential for making informed decisions on facility operations, staffing and scheduling events. With Vea, your data is hosted on our secure servers and can be accessed anywhere, anytime with a web-login - meaning no IT hassle or software to upgrade on your PC.

Call today for a 10% discount off your first order when you mention the ALA Buyers Guide!

Your number one stop for traffic counters.

Easy keyword searches: people counters, traffic counters, patron counters, customer traffic counters, visitor counters, pedestrian counters, automatic people counters, photoelectric people counters, wireless people counters, battery powered people counters, thermal imaging people counters, video imaging people counters, directional people counters, outdoor people counters, hand operated people counters, upgradeable people counters.

Vendor Showcase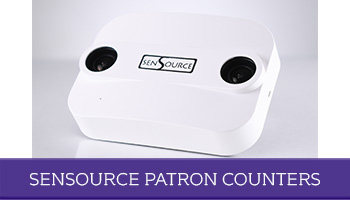 The SenSource Patron Counter uses the latest stereo video technology to detect, track and count patrons with 95% or greater accuracy and maintains accuracy in high-traffic and various traffic patterns. The patron counting sensor is ceiling-mounted with a network connection, making it a fully automated system (no manual resets, no manual data collection and out of reach of tampering).

Vea Reporting Platform completes the solution providing a secure, cloud-based platform for analyzing and reporting your library's traffic data. Vea also provides deeper insights into peak traffic times and patterns and predictive traffic insights to make better business decisions.
Contact us for a demo today! read more