811 W. 7th Street
7th Floor
Los Angeles, CA 90017
United States
CATEGORIES & HEADINGSdetails >>
Pfeiffer is a full-service architectural, interior design, and planning firm with offices in Los Angeles and New York City. Our focus is on educational and cultural work in the U.S. and abroad, for public and private clients.
We offer our clients expertise in a wide range of planning and design services, building upon the proven professional methodologies established over 40 years of practice. Our services include:

Studies and Planning
Needs assessment and feasibility studies
Space programming and space planning
Site selection and site evaluation
Architecture
Master planning and urban design
Historic renovation, preservation and adaptive reuse
Construction administration
Interior Design
Space planning and reorganization
Budget planning and estimating
Furniture, fixtures, and equipment specifications

In the past 20+ years, our library practice has encompassed the planning, programming, design and construction of nearly seven million square feet of space. We have been proactive in the evolution of libraries from print-focused collection repositories to digitally-based centers of learning with technology-rich spaces for both staff and patrons, while addressing the storage of existing volumes and special collections. We work with libraries to plan and implement spaces that support their missions and contribute to community and campus-wide learning objectives.

Clients include academic libraries at University of California-Santa Barbara, Colorado College, Georgia State University, Seattle University, the University of British Columbia, Santa Clara University, seven California State University campuses, Illinois State University, University of San Diego, Washington & Lee University, University of Washington Health Sciences Library and the American University in Cairo, Egypt. Our work includes central libraries in Los Angeles, Boston, Brooklyn and Portland.
Vendor Showcase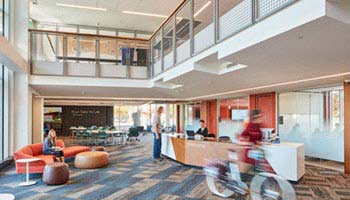 Pfeiffer planned, programmed and designed the expansion and transformation of Colorado College's Tutt Library, originally designed by Walter Netsch in 1962. Attention to open space, the transition between interior and exterior spaces, flexibility of space to support a variety of activities, and integration of programmed spaces encouraging social and intellectual interaction is addressed in the project. The transformed library includes a new, large addition to the west, a minor addition to the east, and a new fourth floor, along with a complete renovation of the existing facility. A critical aspect of the design was achieving the College's goal of carbon neutrality by 2020, making the renovated facility the nation's current largest (94,000 sf) academic library designed for net-zero energy

The design reflects the changing nature of the Library and the values of the College, providing formal and informal spaces to bring the community together. Careful massing and strategically placed windows afford expansive views to Pikes Peak, reversing the building's formerly inward focus. A visual reference to the geographic context is made by the "ribbon"—the exterior cladding of red panels referencing the locally mined red sandstone—that define the addition and connect it to the existing building. read more